One of my favorite ways to transmute intense or chaotic energies is through meditative bathing. You can make your bath time experience even more restorative by adding different salts, minerals, essential oils, candles, incense, sound therapy and more…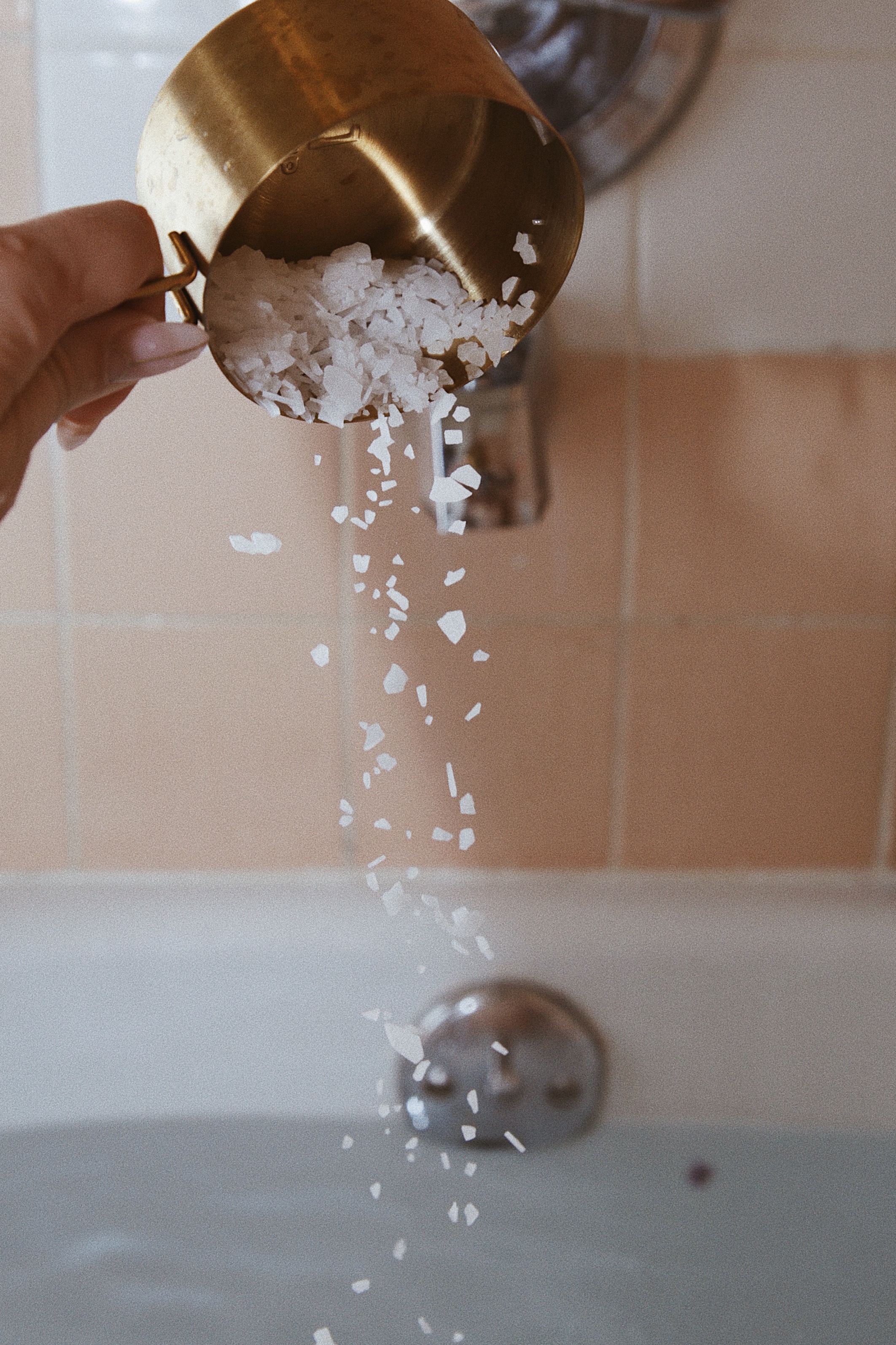 My go-to recipe is simple and effective… magnesium chloride flakes with organic lavender and organic eucalyptus essential oils…
MEASUREMENTS + DIRECTIONS….
1-3 cups of Ancient Minerals Magnesium Chloride Flakes

15-20 drops of Organic Lavender Essential Oil

10-15 drops of Organic Eucalyptus Oil

Fill bath with your preferred temperature water. I personally love super hot water but I know it's not great for dry skin so I try not to let it get too hot… slowly sprinkle in 1-3 cups of magnesium chloride flakes - they will dissolve without agitation or stirring… add essential oils… soak for at least 20-30 minutes… rinse, pat dry, then moisturize with your favorite oil… I prefer grapeseed with 5 drops of organic cardamom before bed…
BENEFITS OF MAGNESIUM CHLORIDE…
First, let's get one thing straight… epsom salt is NOT the same as magnesium chloride… in fact, epsom salt is actually "magnesium sulfate," which is not as easily absorbed through the skin like magnesium chloride is… ultimately making it significantly less effective. Magnesium chloride is excreted through the kidneys at an immensely slower rate than magnesium sulfate, which is another reason why the soothing and pain relieving effects are felt much longer with chloride-based magnesium vs. sulfate-based.
Okay now that y'all know what real OG magnesium is, here is a list of super cool and real things it helps with…
restores and replenishes our magnesium on a cellular level

ideal for children and anyone with sensitive skin

incredibly effective for stress relief and mental relaxation

perfect for soaking away aches, pains and inflammation in muscles and joints

highly therapeutic for irritated skin caused by psoriasis, eczema, or other skin conditions

eases you into a restful night of sleep

calms nerves and anxiety; quiets the mind
Thank you guys for reading! Please let me know how you like this recipe if you try it at home. If you enjoyed this post and would like more skin and self care related posts, let me know in the comments!
Love, Light & Abundance,